Big Small Talks
Camilla Orlandi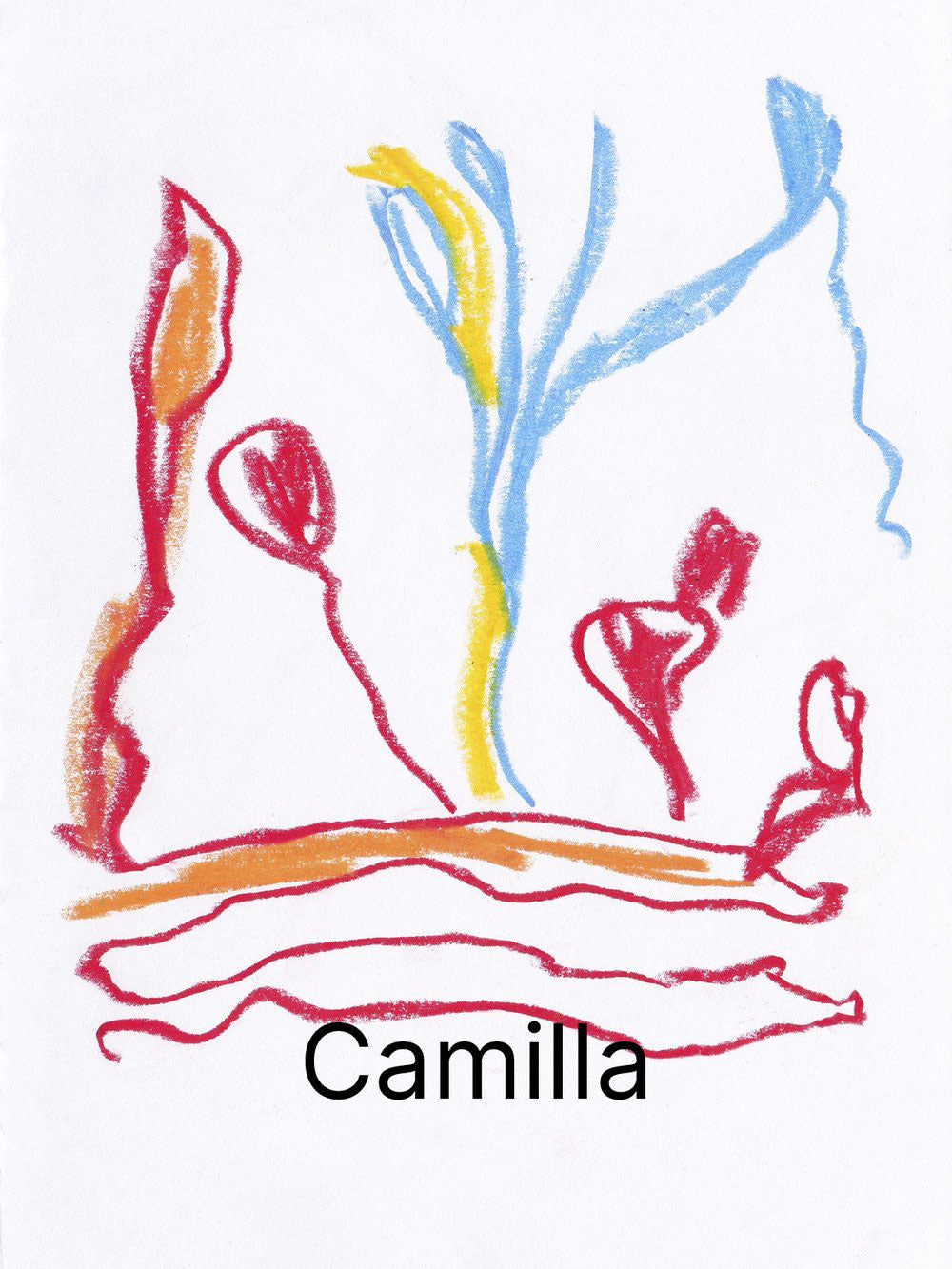 I met Camilla doing yoga in Via Palermo, we met casually a few months later at the restaurant L'Incoronata, I was dining alone and I invited her to join me. I discovered why she was always dressed head to toe in a well-known brand and since then we share vocal messages and weekend organizations, meditations and dreams. When fashion does not take us around the world we find ourselves at dinner, in front of a good wine chosen by her.
instagram.com/magicacami

What did you have breakfast with this morning?
Mixed cereals, millet, amaranth and quinoa with unsugared almond milk, hazelnuts, and banana.

Imagine: you can work two hours a day, how would you spend the rest of your day?
I would definitely do sport, a lot of yoga and I would spend more time with my loved ones. I would lose myself in Milan to discover new corners and I would always visit new exhibitions. I would also like to write a book.

Do you tend to choose courage or comfort?
Definitely comfort, but I would like to do something unexpected in the future.

What are the tips to start a career like yours?
Do a job that you are passionate about because only thanks to this you can face it when the days are long and difficult. As soon as you start waking up in the morning and you can not face the day with enthusiasm you have to change job. Never think that you are indispensable, do your work with great humility, dedication, and respect for others. And always remember to laugh at work too. We spend most of our days working, healthy laughter is mandatory.

You cover one of the most coveted positions in fashion, how do you live the competition?
The only competition I live is that with myself, the only one which counts.

What do you find useful doing what you feel in a stagnant situation?
Get out of the city and see new places. When my eyes open on landscapes and new colors my mind relaxes and thoughts become clearer.
I also find it useful to talk with friends and deal with them because we live in all the same situations but in different dimensions.

You are always traveling, your job leads you to discover new and unusual destinations. Recommend me five places to visit.
Kyoto: it has wonderful temples where you immediately feel in peace and serenity. I still remember a temple with an altar full of oranges in devotion to some god, I was moved by the beauty and tranquility that gave me.

London: has a wonderful mix of cultures and generations that have created it and continue to give it that excitement and creative vivacity that you perceive immediately every time you spend time there.

Tulum: I have a strong relationship with Mexico, I grew up there as a child even though I discovered it as an adult. It evokes me many beautiful memories of childhood, of people, of the climate, of food. Tulum is a small paradise where I relax and take a break from my daily life.

The Agentario: last summer, through a dear friend, I discovered the Argentario and its surroundings. I love the combination of sea, mountain, and countryside, you have all the nature in one place. There are many activities and places to discover such as the Tarot Garden and the "tagliata" near Ansedonia. You can have dinner by candlelight at the Pellicano hotel or at Corinth's in a small town that is not even on Google! There is something for everyone.

Jeonju: a small town in South Korea where a mix of technology and tradition is lived. A dear Korean friend and I wore their traditional clothes and strolled around the city. We went from a school of Confucianism and I heard a harmonious and almost hypnotic song inside a little house, it was really special. I also slept in one of the traditional houses, on the ground with a flower-embroidered pillow. Before going to bed the lady who housed us in the house offered us ginseng tea and persimmons from her garden.
What would you write on a billboard in the middle of your city?
If you do not risk anything, you risk even more.

7 Small Talks
Your daily uniform: a smile.

Which languages do you speak: Italian, English and Spanish.

The favorite place in the city where you live: home.

Favorite flowers: Cyclamens.

Comfort food: fries.

The favorite wine: Gattinara reserve

A friend of yours to interview, what should I ask you? Silvia Gattin, you have to ask her the same questions you asked me but especially which places she visited, she is a real explorer with an immense heart.
Ho conosciuto Camilla facendo yoga in Via Palermo a Milano. Ci siamo incontrate casualmente pochi mesi dopo in un ristorante del centro, io stavo cenando da sola e l'ho invitata a unirsi a me. Ho scoperto come mai era sempre vestita con capi di un noto brand italiano e da allora condividiamo lunghi messaggi vocali ed organizzazioni di weekend, meditazioni e sogni. Quando la moda non ci porta in giro per il mondo ci ritroviamo a cena, davanti ad un buon vino scelto da lei.
instagram.com/magicacami

Con cosa hai fatto colazione questa mattina?
Cereali misti, miglio, amaranto e quinoa con latte di mandorla senza zucchero, nocciole e banana.
Immagina: puoi lavorare due ore al giorno, come passeresti il resto della tua giornata?
Farei sicuramente sport, tanto yoga e passerei più tempo con le persone a me care. Mi perderei a Milano per scoprire nuovi angoli e visiterei sempre nuove mostre. Mi piacerebbe anche scrivere un libro.
Tendi a scegliere il coraggio o il comfort?
Decisamente comfort, ma vorrei fare qualcosa di inaspettato nel futuro.
Quali sono i consigli per intraprendere una carriera lavorativa come la tua?
Fai un lavoro di cui sei appassionata perché solo grazie a questo potrai affrontalo quando le giornate saranno lunghe e difficili. Appena inizi a svegliarti al mattino e non riesci ad affrontare la giornata con entusiasmo devi cambiare lavoro. Non pensare mai di essere indispensabile, quindi fai il tuo lavoro con grande umiltà, dedizione e rispetto per gli altri. E ricordati sempre di ridere anche al lavoro. Passiamo la maggior parte delle nostre giornate lavorando, delle sane risate sono obbligatorie.
Ricopri una delle posizioni più ambite nella moda, come vivi la competizione?
L'unica competizione che vivo è quella con me stessa, è l'unica che conta.
Cosa trovi utile fare quanto ti senti in una situazione stagnante?
Uscire dalla città e vedere posti nuovi. Quando i miei occhi si aprono su paesaggi e nuovi colori la mia mente si rilassa e i pensieri diventano chiari.
Trovo utile anche parlare con amici e confrontarsi con loro perché viviamo tutti le stesse situazioni ma in dimensioni diverse.
Sei sempre in viaggio, il tuo lavoro ti porta a scoprire mete nuove ed insolite. Consigliami cinque luoghi da visitare.
Kyoto: ha dei templi meravigliosi dove ti senti subito in pace e in serenità. Mi ricordo ancora un tempio con un altare pieno di arance in devozione a qualche dio, mi sono commossa dalla bellezza e tranquillità che mi ha regalato.
Londra: ha un mix meraviglioso di culture e di generazioni che l'hanno creata e continuano a darle quel fermento e quella vivacità creativa che percepisci immediatamente ogni volta che ci trascorri del tempo.
Tulum: ho un legame forte con il Messico, ci sono cresciuta da piccola anche se l'ho scoperta da adulta. Mi evoca tanti bei ricordi dell'infanzia, delle persone, del clima, del cibo. Tulum è un piccolo paradiso dove mi rilasso e stacco completamene dalla mia vita quotidiana.
L'Agentario: l'estate scorsa, tramite un caro amico, ho scoperto l'Argentario e i suoi dintorni. Adoro il connubio tra mare, montagna e campagna, hai tutta la natura in un unico posto. Ci sono molte attività e posti da scoprire come il Giardino dei Tarocchi e la "tagliata" vicino ad Ansedonia. Puoi cenare a lume di candela all'hotel il Pellicano o a casa di Corinto in un piccolo paese che non si trova neanche su Google! C'è qualcosa per tutti.
Jeonju: un piccolo paese in Sud Corea dove si vive un mix di tecnologia e tradizione. Io e una cara amica coreana abbiamo indossato i loro vestiti tradizionali e abbiamo passeggiato in giro per la città. Siamo passate da una scuola di confucianesimo e ho sentito all'interno di una casetta un canto armonioso e quasi ipnotico, è stato veramente speciale. Ho anche dormito in una delle case tradizionali, per terra con un cuscino ricamato di fiori. Prima di andare a letto la signora che ci ospitava nella casa ci ha offerto tè al ginseng e cachi del suo giardino.
Cosa scriveresti su un billboard al centro della tua città?
If you don't risk anything, you risk even more.
7 Small Talks
La tua uniforme quotidiana: un sorriso.
Quali lingue parli: italiano, inglese e spagnolo.
Il posto preferito nella città in cui vivi: casa.
I fiori preferiti: i ciclamini.
Il comfort food: patatine fritte.
Il vino preferito: Gattinara riserva
Una tua amica da intervistare, cosa dovrei chiederle? Silvia Gattin, devi farle le stesse domande che hai fatto a me, ma specialmente quali luoghi ha visitato. Lei è una vera esploratrice con un cuore immenso.