Big Small Talks
Nadia Farahani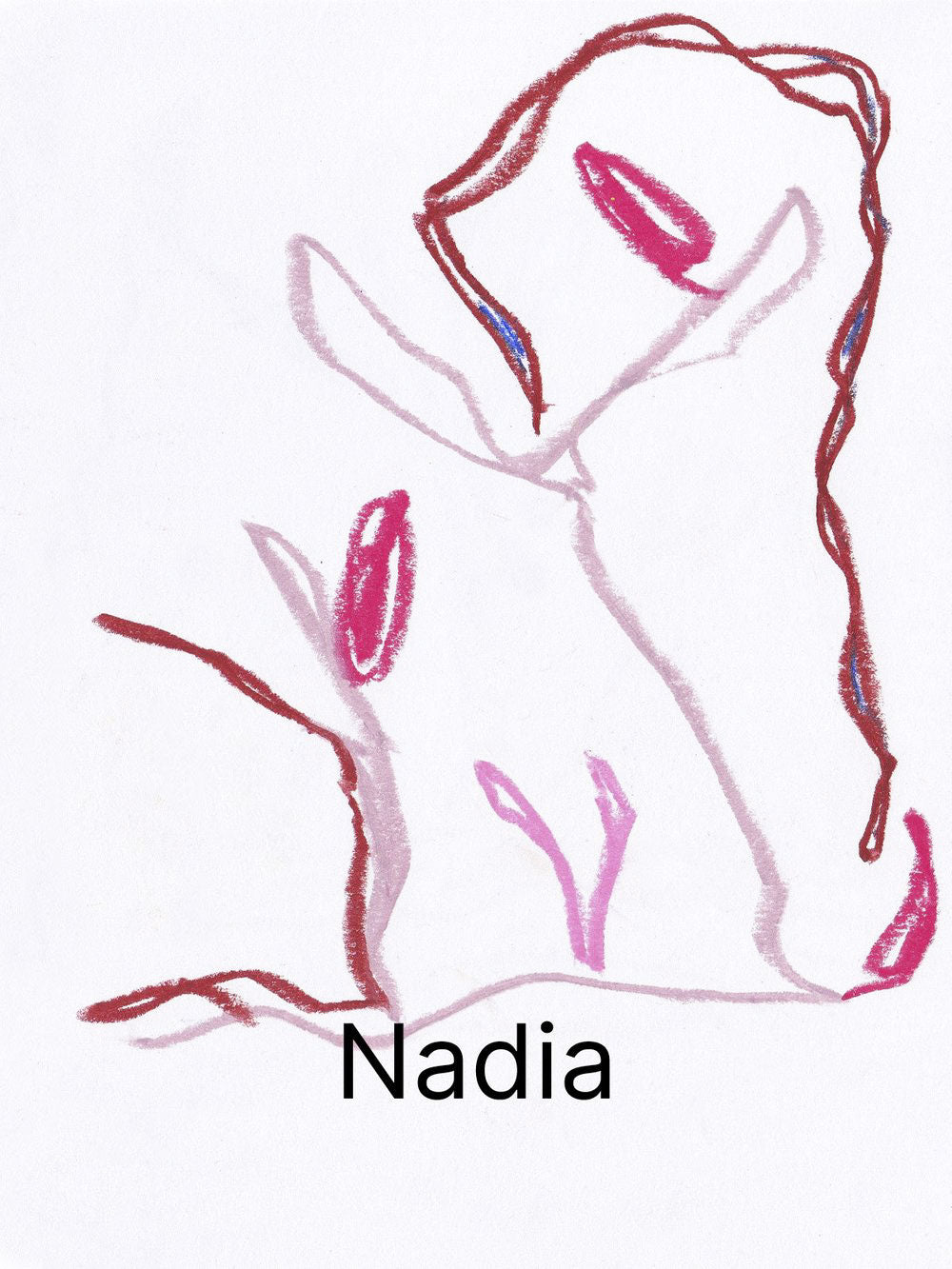 Nadia was suggested by
Giselle
. She lives in Auroville, an international and utopian city founded in 1968 in which the aim is to make a life without money, government, religion or wild urbanization, built for all people, cultural movements and organizations that want to contribute significantly to the progress of humanity. Nadia has a rich biography of studies, I am sure that this interview will not be enough to dissolve all the curiosities and the desire to know her.
What did you have breakfast with this morning?
I had breakfast with lemon juice and honey because my throat was paining, and then almonds, dried figs and a piece of cake with chocolate and pears.
You were born into a multicultural, Italian and Iranian family, where you learned the beauty of diversity from an early age. How did you manage to build a bridge between the two cultures that belong to you?
Certainly trying to learn about both cultures and therefore, first of all, learning languages ​​and then studying literature, history and getting passionate about the cuisine of both countries. Knowing other cultures, such as the Indian or Anglo-Saxon and American cultures, helped me to better understand my identity.
When I was younger I clearly perceived the conflict that this double identity entails because in Iran I was seen as 'the Italian' and in Italy as 'the foreigner'.
Growing up I started to travel, to know, to be more independent and autonomous, this helped me to understand that I am both and that, within me, there is no conflict.
Giselle suggested I ask you about your work and your passion for awakening the sacred feminine.
The theme of awakening the sacred feminine is quite recent as a theme, especially in Italy. When I finished my yoga training, I started attending structured meetings to awaken the sacred feminine energy.
The underlying thought is that there is a conflict between the male and female parts that have no possibility of expressing themselves coherently within the patriarchal society. In a context of this kind, making women sacred, honoring and enhancing their feminine energy makes it possible to resolve this conflict that has been perpetuating for many years and that leads women to try to copy 'the male'.
The message of the sacred feminine teaches you to recognize yourself in being a woman, sacred, as you are, and to seek your fulfillment in activities that are not typically male ones, but which are often also considered frivolous by society.
The sacred feminine is homemade, abundant, sensual, orgasmic, it is all that, in our society, is normally castrated.
There are so many schools to follow if you want to go deeper into this topic, but first of all you have to start by yourself, from your personal experience and the suggestion, if you are a woman, is to start from the menstrual cycle which is the great element of distinction from the man and that is often experienced as a limit or as an event to hide.
Related to this theme there are two readings to start with:
Wild Power: Discover the magic of your menstrual cycle and awaken the feminine path to power by Alexandra Pope and Sjanie Hugo Wurlitzer
Mi sangre cura by Zulma Moreyra.
Another useful starting point may be to deepen the theme of the goddess, both in ancient and contemporary mythology, such as that of the Tantric and Indian culture.
What is the craziest thing you've done in your life?
Usually, I am not a person who loves doing crazy things, but at the age of twenty, I happened to travel to India and choose to live in complete isolation, finding myself in a moment of spiritual and personal research.
I was living alone in the Himalayas at an altitude of 3000m, half an hour's walk from the nearest inhabited villages and, at a certain point, I fell ill and could no longer supply myself. When I finished the water I was in serious trouble and I was very lucky because I asked for help, screaming outside the house, and I found a lady who assisted me. Since then I have learned, when I travel, to find more accessible houses and to travel with what is necessary to cope with emergencies, as nomads do.
Do you have rituals that help you feel confident about yourself?
Looking at my image in the mirror, accepting that I am wonderful as I am and say sentences out loud.
A sentence to which I am bound, taught to me by my tantra teacher is: 'you are the embodiment of the divine force'.
You have been practicing yoga since you were sixteen and, since 2015, when you experienced a car accident, you dedicated yourself in particular to the benefits of Pranayama, as well as becoming an Ayurvedic therapist. What evolution has your practice followed?
Since my accident, the way I approach yogic practice has changed because I started to understand it as a therapy. At the time I reported severe physical trauma having fractured skull, dislocated the spine and having severe neck, hip, pelvis and back problems.
Today I am immensely grateful for this episode because it has allowed me to get rid of the gymnastic illusion imposed by modern yoga in the West that aims to achieve a mere physical performance, supporting only the aesthetics of the body, without there being any reflection or inner search.
Being physically limited and physically immobilized allowed me to explore aspects of the practice that I had not yet had the opportunity to study in depth and that has to do with meditation and the use of breath in a functional way, learning to work on positions to have therapeutic efficacy.
From there I understood what restorative yoga meant, starting to work on positions that contribute to giving you peace and calm to achieve a benefit and not to perform.
Experiencing strong physical pain allowed me to better understand the pain of others and allowed me to start working with the elderly. Because when you experience intense physical pain on your skin, automatically, you also understand that of others.
The other great revelation that I had thanks to my accident was that the yogic practice can be lived more from the inside starting from the pelvic floor, up to the perineum and the genitals.
[A practice that focuses on this part is that of the yoni eggs, also known as the practice of vaginal crystals, whereby each stone is used according to its value and its power, inserting it into the vagina and absorbing the benefits during a meditation session. This practice helps activate vaginal musculature and sexual energy. Ovarian respiration is also part of this area and is part of my teaching and, on this issue, I advise you to read 'Full of life. Ovarian respiration, feminine alchemy 'of Sajeeva Hurtado].
Together with Giselle you gave life to the Wild Flower project. Do you want to share what the soul of the project consists of?
Wild Flower was born about a year ago from the union of our forces of multicultural and open women. It is a movement that seeks to unite and widen more and more a circle of women to whom a series of tools for self-knowledge are proposed, such as the practice of yoga, dance, the use of breathing, ovarian respiration, or menstrual therapy, in addition to tantra and kundalini yoga.
We organize retreats immersed in nature, aimed at women.
The focus of the meetings is to start from the awakening of the wild woman which consists of liberation from superstructures and social conditioning to acquire a state of well-being.
[One of the central themes concerns Yoni that, in Sanskrit is the female genital apparatus, but in reality, it has a deeper meaning linked to the fact that the woman is the source of life, in which she also gathers a remarkable potential of care both towards ourselves as towards others.
We also work on conscious sexuality and the sensuality of life understood as the awareness that life can be orgasmic even without the presence of a companion but in the contemplation of the senses and of life itself.
It all started with these retreats but we would like to expand our work by trying to promote more training for women that also include the other topics that both Giselle and I deal with ranging from natural medicines to essential oils, crystal therapy and cosmetics and its self-production.] 
Which of the five senses is your favorite and why?
I love all five senses because I like to touch and smell, lick, listen and watch.
If I have to choose the sense most connected to my nature it is touch because I love to feel the contact and manifest my love through the contact itself.
Are you good at asking for help when you need it? Who do ask to in this case?
In the first phase of my life, I was not good at asking for help but I became one and today, at the first sign of discomfort, I am able to recognize it.
My first knight is my husband who always assists me when I need him so much that I trust him blindly.
When it is not enough or it is not within his competence there are my friends and my family.
What would you write on a billboard in the center of your city?
Let's hug more.
7 Small Talks
Your daily uniform: long and comfortable
The favorite flowers: peonies and roses
Your comfort food: pistachio
The favorite place in the city where you live: Banyan tree in Auroville, where I live.
The favorite color: I like brick and ocher, warm colors
A friend of yours to interview? Viola Calabrese, a dear friend that lives in Bruxelles.
Nadia è stata suggerita da Giselle. Vive ad Auroville, una città internazionale e utopica fondata nel 1968 nella quale si ambisce a rendere possibile una vita senza denaro, governo, religione o urbanizzazione selvaggia, costruita per tutte le persone, i movimenti culturali e le organizzazioni che vogliano contribuire significativamente al progresso dell'umanità. Nadia ha una biografia ricca di studi, sono sicura che questa intervista non basterà per sciogliere tutte le curiosità e la voglia di conoscerla.
lunariainstitute.org

Con cosa hai fatto colazione questa mattina?
Ho fatto colazione con succo di limone e miele perché avevo mail di gola, e poi mandorle, fichi secchi e un pezzo di torta con cioccolato e pere.

Sei nata in una famiglia multiculturale, italiana ed iraniana, in cui hai imparato sin da piccola la bellezza della diversità. Come sei riuscita a costruire un ponte tra le due culture che ti appartengono?
Sicuramente cercando di conoscere entrambe le culture e quindi, prima di tutto, imparando le lingue e poi studiandone la letteratura, la storia, la cultura e appassionandomi alla cucina di entrambi i paesi. Conoscere anche altre culture, come quella indiana, le altre culture europee, quella anglosassone e americana, del sud e del nord del mondo, mi ha aiutato a comprendere meglio la mia identità.
Quando ero più piccola ho percepito chiaramente il conflitto che questa doppia identità comporta perché in Italia come 'la straniera' e in Iran ero vista come 'l'italiana'. Crescendo ho iniziato a viaggiare, conoscere, essere più indipendente e autonoma, questo mi ha aiutata a capire che io sono entrambe le cose e che, dentro di me, non c'è alcun conflitto. Mi sento molto ricca per questo.

Giselle mi ha suggerito di chiederti del tuo lavoro e della tua passione nei confronti del risveglio del femminino sacro.
Il tema del risveglio del femminino sacro è abbastanza recente come tematica, soprattutto in Italia. Quando ho concluso la mia formazione di yoga, ho iniziato a frequentare incontri strutturati per risvegliare l'energia femminile sacra.
Il pensiero alla base è che ci sia un conflitto tra la parte maschile e quella femminile, negli esseri umani, che non hanno la possibilità di esprimersi in modo coerente all'interno della società patriarcale. In un contesto di questo tipo rendere sacro l'essere donna, onorare e valorizzare la sua energia femminile consente di risolvere questo conflitto che si perpetra da tantissimi anni e che porta spesso la donna a sacrificare la propria identità di donna polarizzandosi nell'energia maschile oppure a eccedere nell'energia femminile rischiando di non riuscire ad affermarsi e vivere libera. Riconoscere la sacralità dell'essere donna e quindi incarnazione della madre, della creatrice e creativa per eccellenza è il primo passo in questo gioco di equilibri.
Il messaggio del femminino sacro ti insegna a riconoscerti nel tuo essere donna, sacra, così come sei, e a permetterti di ritrovare la tua realizzazione anche in attività che non sono quelle tipicamente maschili e mainstream, ma che, spesso, sono anche considerate frivole dalla società.
Il femminino sacro è casereccio, abbondante, sensuale, orgasmico, è tutto ciò che, nella nostra società, viene normalmente castrato.
Ci sono tante scuole da seguire se si vuole approfondire questo tema, ma prima di tutto bisogna cominciare da sé, dalla propria esperienza personale e il suggerimento, se sei una donna, è di partire dal ciclo mestruale che è il grande elemento di distinzione dall'uomo e dalle altre creature e che spesso è vissuto come un limite o come un evento da nascondere.
Legate a questo tema ci sono due letture da cui partire:
Wild Power: Discover the magic of your menstrual cycle and awaken the feminine path to power di Alexandra Pope e Sjanie Hugo Wurlitzer
Mi sangre cura di Zulma Moreyra.
Un altro spunto utile può essere quello di approfondire il tema della dea, nell'ambito mitologico sia antico che contemporaneo, come quello della cultura tantrica indiana e tibetana.

Quale è la cosa più folle che hai fatto nella tua vita?
Di solito non sono una persona che ama fare cose folli, ma mi è capitato, a vent'anni, di fare un viaggio in India e scegliere di vivere in completo isolamento trovandomi in un momento di ricerca spirituale e personale.
Ho preso casa da sola sull'Himalaya a 3000m di altezza, a mezz'ora di cammino dai villaggi abitati più vicini e, ad un certo punto, mi sono ammalata non potendo più approvvigionarmi in modo autonomo. Quando ho finito l'acqua sono stata in seria difficoltà e sono stata molto fortunata perché ho chiesto aiuto, urlando all'esterno dell'abitazione, e ho trovato una signora che mi ha assistita. Da allora ho imparato, quando viaggio, a trovare case più raggiungibili e a viaggiare con il necessario per far fronte alle emergenze, come fanno i nomadi.

Hai dei rituali che ti aiutano a sentirti sicura di te stessa?
Guardare la mia immagine nello specchio, accettare che sono meravigliosa così come sono e dire delle frasi ad alta voce.
Una frase a cui sono legata, insegnatami dal mio maestro di tantra è: 'you are the embodiment of the divine force'.

Pratichi yoga da quando hai sedici anni e, dal 2015, quando hai vissuto un incidente d'auto, ti sei dedicata in particolare ai benefici del Pranayama, oltre ad essere diventata terapista ayurvedica. Che evoluzione ha seguito la tua pratica?
A partire dal mio incidente è cambiato il modo in cui mi approccio alla pratica yogica perché ho cominciato a intenderla come terapia. All'epoca ho riportato dei gravi traumi fisici avendo fratturato il cranio, dislocato la colonna vertebrale e avendo problemi gravi al collo, alle anche, al bacino e alla schiena.
Oggi sono immensamente grata per questo episodio perché mi ha consentito di liberarmi dell'illusione ginnica imposta dallo yoga moderno in occidente che mira a realizzare una mera performance fisica, assecondando solo l'estetica del corpo, senza che ci sia alcuna riflessione né ricerca interiore.
Il fatto di essere fisicamente limitata e fisicamente immobilitata mi ha consentito di esplorare aspetti della pratica che non avevo ancora avuto l'occasione di approfondire e che hanno a che fare con la meditazione e l'uso del respiro in modo funzionale, imparando a lavorare sulle posizioni affinché abbiano un efficacia terapeutica.
Da lì ho compreso interiormente cosa significasse restorative yoga, cominciando a lavorare sulle posizioni che contribuiscono a darti pace e calma per raggiungere un beneficio e non per performare.
Sperimentare un forte dolore fisico mi ha consentito di capire meglio anche il dolore degli altri e mi ha permesso di iniziare a lavorare con gli anziani e coloro che non sono in salute. Perché quando provi sulla tua pelle un dolore fisico intenso, in automatico, comprendi meglio anche quello degli altri.
L'altra grande rivelazione che ho avuto grazie al mio incidente è stata che la pratica yogica possa essere vissuta più da dentro a partire dal pavimento pelvico, fino al perineo e ai genitali.
Una pratica che si focalizza su questa parte è quella delle yoni eggs, conosciuta anche come pratica dei cristalli vaginali, per cui si utilizza ciascuna pietra a seconda del suo valore e del suo potere, inserendolo in vagina e assorbendone i benefici nel corso di una sessione di meditazione. Seguite da una terapeuta è possibile lavorare con le uova anche con il movimento e l'attivazione muscolare, aldilà della meditazione statica. Questa pratica contribuisce ad attivare la muscolatura vaginale e l'energia sessuale. Anche la respirazione ovarica rientra in questo ambito e fa parte del mio insegnamento e, su questo tema, ti consiglio di leggere 'Piena di vita. Respirazione ovarica, alchimia femminile' di Sajeeva Hurtado.

Insieme a Giselle hai dato vita al progetto 'Wild Flower'. Vuoi condividere in cosa consiste l'anima del progetto?
'Wild Flower' è il nome che diamo ai nostri ritiri al femminile, all'interno nel progetto Lunaria Institute che a sua volta nasce dall'unione delle nostre forze di donne multiculturali e aperte al cambiamento e all'evoluzione dell'essere donna oggi. Si tratta di un movimento che cerca di unire e allargare sempre di più un cerchio di donne a cui si propongono una serie di strumenti per l'autoconoscenza e l'empowerment, come la pratica dello yoga, la danza, l'uso della respirazione, la respirazione ovarica alchimia femminile, la terapia mestruale, l'ambito del tantra e del contatto consapevole e molto altro ancora, soprattutto attingendo al mondo delle arti.
Organizziamo ritiri immersi nella natura, rivolti alle donne.
Il focus degli incontri è partire dal risveglio della donna selvaggia che consiste nella liberazione dalle sovrastrutture e dai condizionamenti sociali per acquisire uno stato di benessere e consapevolezza rispetto ai temi della mestrualità, della fertilità e dell'orgasmicità.
Uno dei temi centrali riguarda Yoni che, in sanscrito rappresenta la vagina e l'apparato genitale femminile, ma in realtà ha un significato più profondo legato al fatto che la donna è la sorgente della vita, nella quale si raccoglie anche un notevole potenziale di cura sia verso se stessa che verso gli altri.
Lavoriamo anche sulla sessualità consapevole e sulla sensualità della vita intesa come la consapevolezza che la vita può essere orgasmica anche senza la presenza di un compagno, ma nella contemplazione dei sensi e della vita stessa.
Tutto è partito da questi ritiri ma vorremmo ampliare il lavoro cercando di promuovere una maggiore formazione rivolta alle donne che comprenda anche le altre tematiche di cui sia io che Giselle ci occupiamo che vanno dalle medicine naturali, agli oli essenziali, la cristallo terapia, la cosmetica naturale e la sua autoproduzione. 
Mi dai la ricetta del tuo piatto preferito al momento?
Appetizer di frutta secca: spezzettare grossolanamente mandorle, noci e anacardi, farle saltare qualche minuto in padella con un pizzico di sale, una manciata di paprika piccante, pepe nero e sale. Sgranocchiare con qualcosa di fresco o caldo da bere!

Quale dei cinque sensi è il tuo preferito e perché?
Io amo tutti e cinque i sensi perché mi piace toccare e annusare, leccare, ascoltare e guardare.
Se devo scegliere il senso più connesso alla mia natura è il tatto perché adoro percepire il contatto sul mio corpo, mi calma e mi riconnette al benessere, e amo manifestare il mio amore tramite il contatto.

Sei brava a chiedere aiuto quando ne hai bisogno? A chi ti rinvolgi in questo caso?
Nella prima fase della mia vita non ero brava nel chiedere aiuto ma lo sono diventata e oggi, al primo segnale di malessere sono capace di riconoscerlo.
Il mio primo cavaliere è mio marito che mi assiste sempre quando ne ho bisogno tanto che mi fido ciecamente di lui.
Quando non è sufficiente o non è di sua competenza ci sono la mia famiglia, le mie amiche e i miei amici.

Cosa scriveresti su un billboard in centro alla tua città?
Abbracciamoci di più.

7 Small Talks
La tua uniforme quotidiana: abitone lungo e comodo
I fiori preferiti: le peonie e le rose
Il tuo comfort food: pistacchio
Il posto preferito nella città in cui vivi: Banyan tree ad Auroville, dove vivo.
Il colore favorito: mi piacciono il color mattone e ocra, tinte calde
La tua posizione yoga: siddhasana
Una tua amica da intervistare? Cosa dovrei chiederle? Viola Calabrese, mia carissima amica che vive da 8 anni a Bruxelles.