Big Small Talks
Noemi Di Gioia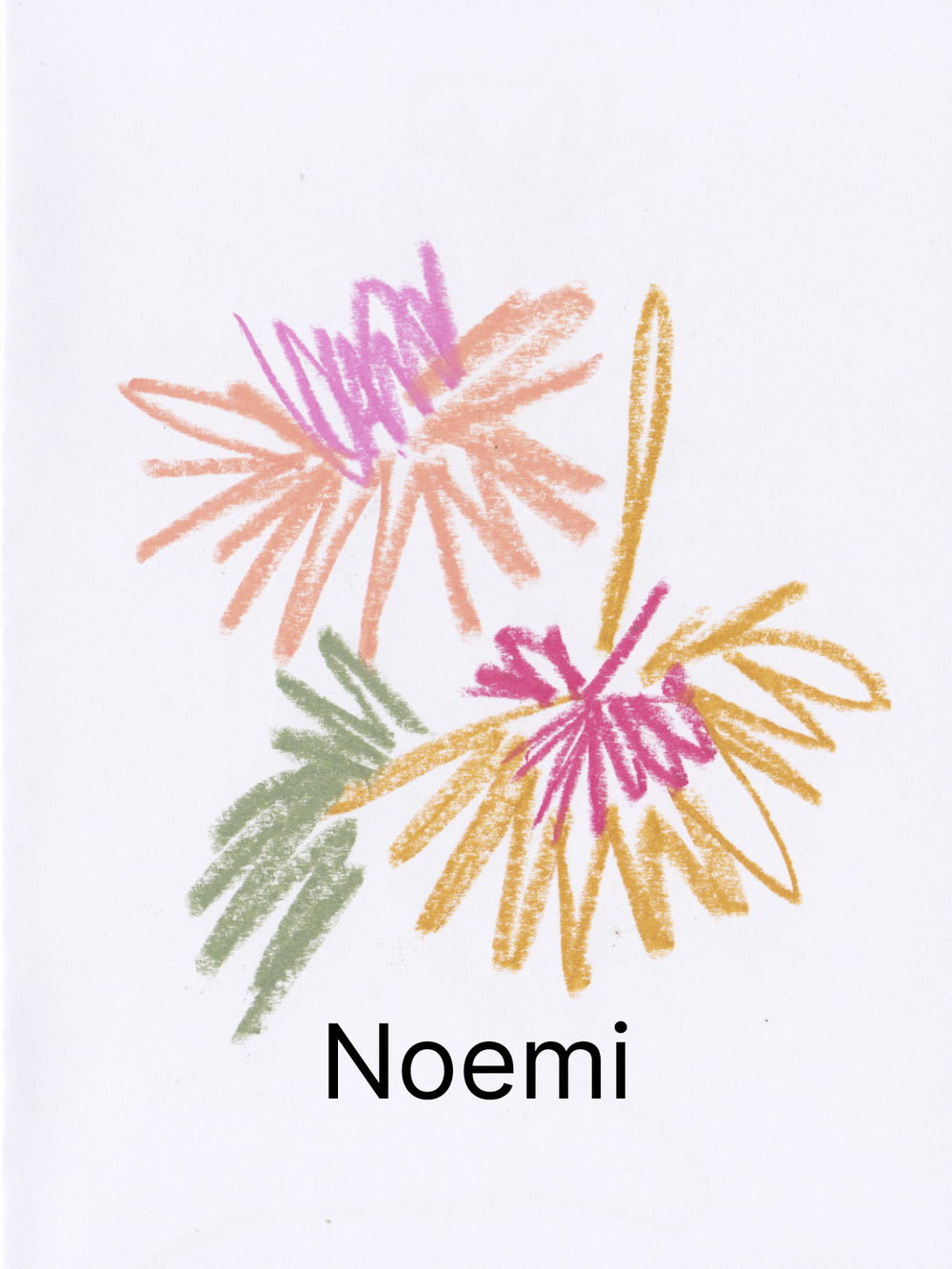 Noemi was suggested by Erika. In her Instagram profile's quote, I read: 'creative producer, talent agent, project manager' which associated to the description from Erika, makes me think she is an explosive person, with many interests and collaborations. Virgo Milano is the collective she is part of.
instagram.com/noemiddgg
instagram.com/virgo.milano
Erika describes you as a 'volcano' and told us that it is impossible to be silent with you. What animates you and what distinguishes your way of being?
I have so much energy, I admit it. Surely I am driven by a very strong sense of curiosity about the world, I am a born and tireless explorer. Plus I don't like keeping discoveries for myself, but I feel the need to share them. It is as if in this way they take on more relevance, it is no longer your little secret but it becomes something more tangible and real and this makes me feel good.
 
Tell me about one of the last projects you made.
"Bianca" is a photographic project with the female collective Virgo Milano, of which I am a part as project coordinator. The project is based on a search for female personalities from different socio-cultural environments that stand out for their professional resourcefulness and for the unique way of being women, core values ​​of the philosophy of Virgo Milano. The project contains nine diptychs taken by the photographer Guglielmo Profeti and exhibited during the fashion week at the space of Marsell Paradise. The objective of 'Bianca' is to create a visual story that expresses the different facets of activism and feminine intelligence in contemporary Milan.

You are part of the team that manages the Virgo Instagram account in Milan, how was the idea born and how is this project evolving?
I simply returned my profession of a producer to the collective service following the cultural projects that Virgo started to propose last year. From 2016 to today the values ​​have remained the same, the celebration of femininity, the enhancement of diversity and defects as a strength, it has only evolved the container in which this takes place. Virgo was born two years ago with a series of parties that took part weekly in a historic underground club in the city, the Rocket. Every Friday night the place became our private space where the girls of the collective were the undisputed landlords. It was the moment when each of our guests could get rid of their own insecurities and inhibitions, having fun without being ashamed of being herself. The launch period through the night world lasted a year, during which we had the opportunity to spread the message also through collaboration with international musical personalities such as Eclair Fifi, and the support of well-known artists in the city, such as Giada Yeya Montomoli. Yeya's studio hosted Virgo's first photo exhibition, marking the start of our second season. Subsequently, we have established collaborations with other realities dedicated to musical experimentation, with which there continues to be great mutual support, such as Body Heat, Karma and WeRiddim. The latter gave us the opportunity to organize a temporary installation within the Apollo Club of Milan. The project saw the contribution of some young illustrators on the rise, such as Elisabetta Bianchi, MissGoff Etown, and Eleonora Corbanese, who created works specifically for the occasion.
The event was dedicated to the three Graces, which we can perhaps consider the first girly crew of history and which symbolically represented the union of all these feminine forces and was focused on the relationship between the woman's body and the discovery of her own pleasure. This event kicked off a series of socio-cultural projects that we started developing under the name 'Bianca', made possible thanks to the contribution of the Marsèll brand.
 
What obsession do you explore in the evenings and at weekends?
If you have peeked at my Instagram profile you will notice it, I have an absolutely untreatable disease for cinema. Every night I try to give myself two hours for a film or a documentary about movies or sharks, another obsession of the last two or three years.

What was your greatest failure that then became the basis for your future success?
In every failure, I try to see the glass half full. After metabolizing the drama, I start with a big smile and tend to go out with the same smile. A brief example was my university training course. I was enrolled in a faculty in Bari that was suppressed. So I decided to come to Milan addressing my studies vertically. From that moment I understood what my real goal was, I had in mind what I wanted to meet and how I should have arrived.
 
What have you changed your mind about over the last two years and why?
More than changing my mind, I try to soften it if I find convincing motivations or if, banally, I find the opposite. I really like the comparison. For me, communicating one's opinion has always been an act of courage because it inevitably exposes you and leads you to dialogue and a subsequent re-evaluation of your thesis. It is a very fascinating process for me.
 
Tell me one of the latest discoveries you've made.
I constantly discover 'things', but what excites me most are certain people, both those who surround me every day and those I see for five minutes, in addition to those I know during travel.
 
Is there a woman from the past or present who inspires you and whom you admire?
There are so many women I admire. I think women are always a resource. They are examples of balance, endurance, beauty, evolution, vanity, and courage.
I love the courage of Simone De Beauvoir, the transgression of Vivienne Westwood in the seventies, the magnetism of Romy Schneider, the charm of Anjelica Houston, the expressiveness of Pina Bausch and the perseverance of Cecilia Alemani.

Can you tell me the five songs that are fundamental in your life?
Impressions of September of the Premiata Forneria Marconi
In the mood for love - Yumeji's theme by Shigeru Umebayashi
Bocca di Rosa by Fabrizio De Andrè
Limit to your love by James Blake
Chan Chan of the Buena Vista Social Club
Tell me about your ideal day. How would you spend it?
I love taking long walks in nature, they remind me of weekends with my father's hiking group. In my ideal day, there would be so much heat, that warms my skin, surely a waterfall or a stream to cross with a kayak, lots of greenery around and a couple of friends to share this moment with. If the season does not allow it, instead, it would make me happy a tour at Fotografiska or at the Moderna Museet in Stockholm.
 
What would you write on a billboard in downtown Milan?
A phrase of Malcolm McLaren 'better to be a serious mistake than a harmless success'.
 

7 Small Talks
Your daily uniform: vintage dress, boots, and overcoats

The favorite flowers: colorful tulips

Your comfort food: prosciutto crudo

The favorite place in the city where you live: Bicocca Hangar

The favorite film: The Last Emperor, Ultimo Tango in Paris, Novecento, and La Luna by Bernardo Bertolucci who was the initiator of my passion for cinema.

The magazine of the heart: Pleasure Garden

A friend of yours to interview? Micaela Flenda,  ask her about the Timnby project
Noemi è stata suggerita da Erika. Nella quote del suo Instagram leggo - Creative Producer | Talent Agent | Project Manager - che associato alla descrizione che Erika mi ha dato di lei mi fa pensare che sia una persona esplosiva, con molti interessi e tante collaborazioni. Virgo Milano è il collettivo di cui fa parte.
instagram.com/noemiddgg
instagram.com/virgo.milano
Erika ti descrive come un vulcano e ci ha raccontato che con te è impossibile stare in silenzio. Cosa ti anima e cosa contraddistingue il tuo modo d'essere?
Ho tanta energia, sicuramente sono spinta da un fortissimo senso di curiosità verso il mondo, sono un'esploratrice nata e instancabile. Non amo tenere le scoperte per me, ma sento la necessità di condividerle, è come se in questo modo assumessero più rilevanza, diventa qualcosa di più tangibile e reale e questo mi fa sentire bene.

Raccontami di uno degli ultimi progetti che hai realizzato.
"Bianca" un progetto fotografico con il collettivo femminile Virgo Milano, di cui faccio parte in qualità di project coordinator. Il progetto si basa su una ricerca di personalità femminili provenienti da differenti ambienti socio-culturali che si distinguono per la propria intraprendenza professionale e per il modo unico di essere donne, valori cardine della filosofia di Virgo Milano. Il progetto racchiude nove dittici scattati dal fotografo Guglielmo Profeti ed esposti durante la fashion week presso lo spazio di Marsell Paradise. Obiettivo di 'Bianca' è quello di creare un racconto visivo che esprima le diverse sfaccettature dell'attivismo e dell'intelligenza al femminile della Milano contemporanea.

Fai parte del team che gestisce Virgo Milano, come è nata l'idea e come si sta evolvendo questo progetto?
Ho semplicemente riportato la mia professione di producer al servizio del collettivo seguendo i progetti culturali che Virgo ha iniziato a proporre dallo scorso anno.
Dal 2016 ad oggi i valori sono rimasti gli stessi, la celebrazione della femminilità, la valorizzazione della diversità e dei difetti come punto di forza, si è solo evoluto il contenitore in cui questo avviene.
Virgo nasce due anni fa con una serie di party che prendevano parte settimanalmente in uno storico club underground della città, il Rocket. Ogni venerdì sera il locale diventava il nostro spazio privato dove le ragazze del collettivo erano le indiscusse padrone di casa. Era il momento in cui ogni nostra ospite poteva liberarsi delle proprie insicurezze e inibizioni, divertendosi senza nessuna vergogna di essere se stessa. Il periodo di lancio attraverso il mondo della notte è durato un anno, durante il quale abbiamo avuto la possibilità di diffondere il messaggio anche tramite la collaborazione con personaggi musicali di livello internazionale come Eclair Fifi, e il supporto di artisti noti in città, come Giada Yeya Montomoli.
Lo studio di Yeya ha ospitato la prima mostra fotografica di Virgo, segnando l'inizio della nostra seconda stagione. Successivamente abbiamo instaurato collaborazioni con altre realtà dedite alla sperimentazione musicale, con cui continua ad esserci grande supporto reciproco, come Body Heat, Karma e WeRiddim. Quest'ultima ci ha dato la possibilità di organizzare un'installazione temporanea all'interno dell'Apollo Club di Milano.
Il progetto ha visto il contributo di alcune giovani illustratrici in ascesa come Elisabetta Bianchi, MissGoff Etown ed Eleonora Corbanese, le quali hanno realizzato delle opere appositamente per l'occasione.
L'evento è stato dedicato alle tre Grazie, che possiamo forse considerare la prima girl crew della storia e che hanno rappresentato simbolicamente l'unione di tutte queste forze femminili, ed era focalizzato sul rapporto tra il corpo della donna e la scoperta del proprio piacere. Questo evento ha dato il via ad una serie di progetti socio-culturali che abbiamo iniziato a sviluppare sotto il nome di 'Bianca', reso possibile anche grazie al contributo del brand Marsèll.

Quale ossessione esplori la sera e nei weekend?
Se avete sbirciato il mio profilo instagram ve ne sarete accorte, ho una malattia assolutamente non curabile per il cinema. Ogni sera cerco di regalarmi due ore per un film o un documentario che parli di film o di squali, altra ossessione degli ultimi due o tre anni.

Quale è stato il tuo miglior fallimento che poi è diventato la base per un tuo futuro successo?
In ogni fallimento cerco di vedere il bicchiere mezzo pieno. Dopo aver metabolizzato il dramma parto con un sorrisone e, tendenzialmente, ne esco con un altrettanto sorriso. Un breve esempio è stato il mio percorso formativo universitario. Ero iscritta ad una facoltà di Bari che è stata soppressa. Ho deciso così di venire a Milano indirizzando in modo verticale i miei studi.Da quel momento ho compreso quale fosse il mio vero obiettivo, ho avuto ben in mente quello a cui volessi andare incontro e come ci sarei dovuta arrivare.

Su cosa hai cambiato opinione negli ultimi due anni e come mai?
Più che cambiare opinione cerco di ammorbidirla se trovo motivazioni convincenti o se, banalmente, riscontro il contrario. Mi piace il confronto. Comunicare la propria opinione è un atto di coraggio perché inevitabilmente ti espone e ti induce al dialogo e ad una successiva rivalutazione della tua tesi. E' un processo per me molto affascinante.

Raccontami una delle ultime scoperte che hai fatto.
Scopro costantemente, ma quello che mi entusiasma di più sono sicuramente le persone, sia quelle che mi circondano ogni giorno che quelle che vedo per cinque minuti, oltre a quelle conosciute durante i viaggi.

C'è una donna, del passato o del presente, a cui ti ispiri e che ammiri?
Ci sono tante donne che ammiro, le donne sono sempre una risorsa: sono esempio di equilibrio, sopportazione, bellezza, evoluzione, vanità e coraggio.
Amo il coraggio di Simone De Beauvoir, la trasgressione di Vivienne Westwood negli anni settanta, il magnetismo di Romy Schneider, il fascino di Anjelica Houston, l'espressività di Pina Bausch e la perseveranza di Cecilia Alemani.

Mi dici i cinque canzoni che sono fondamentali nella tua vita?
Impressioni di Settembre della Premiata Forneria Marconi
In the mood for love - Yumeji's theme di Shigeru Umebayashi
Bocca di Rosa di Fabrizio De Andrè
Limit to your love di James Blake
Chan Chan dei Buena Vista Social Club
Raccontami la tua giornata ideale. Come la trascorreresti?
Amo fare lunghe passeggiate in mezzo alla natura, mi ricordano i weekend con il gruppo escursionistico di mio padre. Nella mia giornata ideale ci sarebbe tanto caldo, che mi riscalda la pelle, sicuramente una cascata o un torrente da attraversare con un kayak, tantissimo verde intorno e un paio di amici con cui condividere questo momento. Se la stagione non dovesse permetterlo invece mi renderebbe felice un tour al Fotografiska o al Moderna Museet di Stoccolma.
Cosa scriveresti su un billboard in centro a Milano?
Una frase di Malcolm McLaren 'meglio essere un grave errore che un innocuo successo'.
7 Small Talks
La tua uniforme quotidiana: vintage dress, stivali e cappotti over
I fiori preferiti: tulipani colorati
Il tuo comfort food: prosciutto crudo
Il posto preferito nella città in cui vivi: Hangar Bicocca
Il film favorito: L'ultimo imperatore, Ultimo Tango a Parigi, Novecento, La luna di Bernardo Bertolucci che è stato l'iniziatore della mia passione per il cinema
La rivista del cuore: Pleasure Garden
Una tua amica da intervistare? Micaela Flenda, chiedile del progetto Timnby