JOURNAL
The Italian Holiday Guide, Vacanze Italiane 2020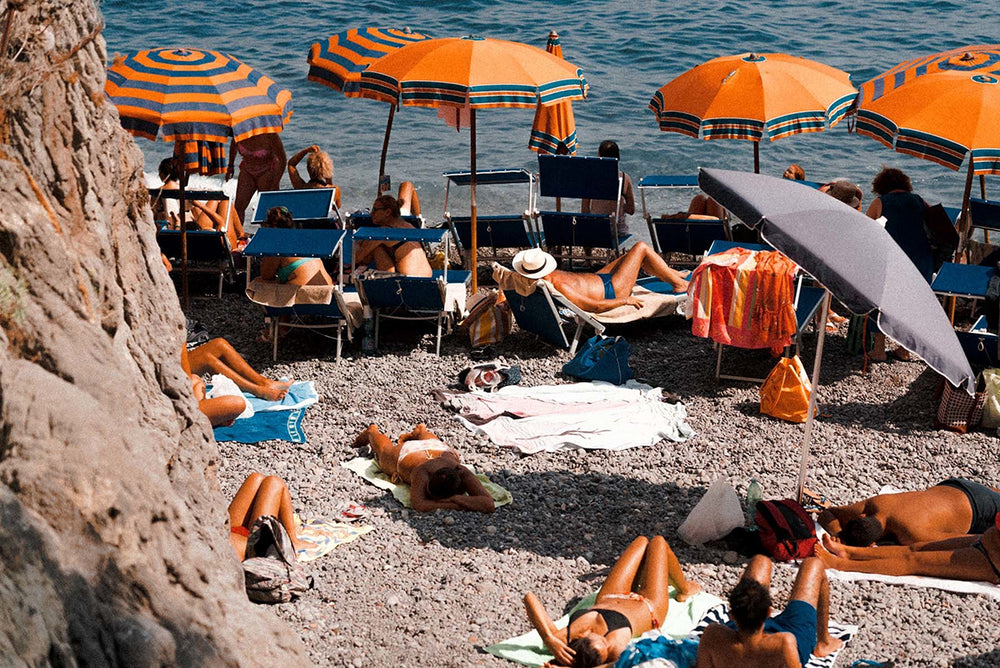 Picture via The Editorialist by Izi
A list of Italy's hidden beaches, small villages and unique gems thanks to the suggestions from locals.
If you are looking to feel the vibes of eternal vacation and the charming Italian holidays of the Bella Vita, you are in the right place!
Picture via The Editorialist by Izi
From the Amalfi Coast to hidden places of Sicily and Sardinia, from the small villages of the Abruzzo region to Puglia and the Marche, Liguria, you will experience authentic Italian charm and beauty!
We suggest a road trip: rent a car and sleep in small villages, speak with locals and taste the delicious cuisine from small family restaurants. By the end of your holiday, you will feel as though you are in an old Italian movie poster.
Licia received more than four hundred suggestions via her IG. Here is the final selection we made for you.
These are the best, most authentic spots for your Vacanze Italiane 2020:
Abruzzo
Campo Imperatore, L'Aquila
Castello Rocca Calascio at Calascio, L'Aquila
Civitella del Tronto, Teramo
Costa dei Trabocchi
Crecchio, Chieti
Gli Eremi del parco nazionale Majella
Lago di Scanno, L'Aquila
Pescasseroli, L'Aquila
Santo Stefano di Sessanio L'Aquila
Spiaggia di punta penna a Vasto, Chieti
Spiaggia Punta Aderci a Vasto, Chieti
Vasto has incredible sea and mountains
Basilicata
Castelmezzano, Potenza
Parco del Pollino
Rocca Araba di Pietrapertosa, Potenza
Maratea, Potenza
Matera
Spiaggia di Metaponto a Lido, Matera
Calabria
Agriturismo Ceraudo, Strongoli, Crotone
Capo Vaticano, Vibo Valentia
Diamante, Cosenza
La costa dei Gelsomini, Reggio Calabria
Lago Ampolline in the Sila National Park
Marina di Zambrone, Vibo Valentia
Scilla, Reggio Calabria
Parco Nazionale della Sila
Ristorante Dattilo, Strongoli, Crotone
Tropea, Vibo Valentia
Campania
Anacapri and you can sleep at Villa San Michele
Baia degli Infreschi, Salerno
Baia del Buon Dormire a Palinuro, Salerno
Capri, Hotel Caesar Augustus
Tutta la Costiera Amalfitana
Fiordo di Crapolla, Napoli it's so beautiful but the access it's difficult 
Fiordo di Furore, Furore, Salerno
Ischia
Marina di Camerota, Salerno
Paestum in September so you can visit all the villages of Cilento
Palinuro, Salerno
Procida, it's a real gem, it's surreal
Punta Licosa
Sorrento
Spiaggia Il Postino a Procida
Emilia Romagna
Agriturismo La Rinaldina, Faenza, Ravenna
Agriturismo Rio Manzolo, Villa Vezzano, Ravenna
Brisighella, a medieval village
Faenza is famous for clay, you can also visit the MIC museum and if you like fashion A.N.G.E.L.O. a famous vintage brand
Parco del Carnè
Podere la Berta
Lazio
Acquapendente
Anfiteatro Romano a Sutri
Calcata, Viterbo
Città di Bagnoregio, Viterbo
Formia, Latina
Gaeta and the Spiaggia dei 300 gradini, Latina
Giardini di Ninfa, Cisterna di Latina
Isola di Ponza, Latina
Lago di Bolsena
Museo Etrusco a Tarquinia
Palazzo Farnese, Caprarola
Palmarola, Latina
Parco dei Mostri, Bomarzo
Sabaudia, Latina
Sperlonga, Latina
Terracina, Latina
Tuscania, Viterbo
Ventotene, Latina
Villa Lante a Bagnaia
Viterbo
Liguria
Abbazia di San Fruttuoso
Albisola for a dinner at Rosa dei Venti
Baia del Silenzio, Sestri Levante
B&B Belvedere Tramonti a La Spezia, you can only get there with a 20 minute walk because it is very isolated, perched on the rocks and has the sea in front
Bagni Sillo, Liguria
Bergeggi at the Lido delle Sirene beach
Bonassola
Borgio Verezzi, Savona
Bussana Vecchia, Imperia
Camogli, Genova
Capo Nord a Santa Margherita Ligure
Corniglia, Cinque Terre and you can sleep at Il Carugio di Corniglia
Eco del Mare a Lerici for a cozy dinner, a charming lunch and a relaxing day at the beach. They also offers rooms for the night.
Garbassu a Varazze for a dinner
Finalborgo, Savona
Finale Ligure, Savona
Framura, La Spezia
Lerici, La Spezia
Levanto
Manarola alle Cinque Terre, La Spezia
Monterosso alle Cinque Terre, La Spezia
Noli, Savona
Paraggi
Pietra di Luna a Zoagli
Porto Venere, La Spezia
Punta Chiappa you can lunch at the Stella Maris or at the family restaurant of a fisherman that is in the woods, Camogli
Riomaggiore alle Cinque Terre, La Spezia
Santa Margherita for the focaccia at the Fiordiponti bakery 
Savona for a lunch or dinner at Pino Banana, a vegetable grocery store that cooks also delicious food
Spiaggia di Tellaro a Tellaro
Varigotti, Baia dei Saraceni beach
Lombardia
Bagni della Duchessa, Val di Mello
Bellagio
Diga di Pescegallo
You can take the Bernina Express Train, a small red one from Tirano to St. Moritz
Garrone Riviera to see Il Vittoriale degli Italiani and the Mausoleo of Gabriele D'Annunzio
Monte Isola, Iseo Lake
Rifugio Luna Nascente, Val di Mello
Punta San Virgilio to see Belvedere Romano and a stunning sunset
Sirmione at the Jamaica Beach to chill and at Osteria al Torcol for lunch, or if you prefer a lunch in the countryside Agriturismo La Montina
Valtellina
Villa d'Este, Cernobbio
Villa Feltrinelli Hotel, Gargnano
Friuli-Venezia Giulia
Altopiano del Montasio

Aquileia

Duino a Sistiana

Carnia a mountain location to practice all the sports at the fresh air

Grado, the Isle of the Sun
Laghi di Fusine
Lignano Sabbiadoro
Parco Nauturale delle Dolomiti Friulane
Sappada, it will be the first eco-friendly mountain resort in Friuli with a plastic free project starting this summer
Sentiero Rilke, Trieste
Trieste
Marche
Abbadia di Fiastra, Macerata
Ascoli Piceno
Canfaito, Macerata
Casa Azzurra a Loro Piceno
Castelcavallino, Pesaro e Urbino
Corinaldo
Elcito, Macerata
Gole di Fiastrone, Macerata
Il Tempio di Valadier, Genga
Gola del Monte Furlo
La spiaggia di Fiorenzuola di Focara it is a very small and still semi-unknown place, similar to the Conero but the beach can only be reached via a path that can only be traveled on foot and is therefore not very popular
Lago di Fiastra, Macerata
Lame Rosse, Macerata
Malatesta Maison a Pergola, Pesaro-Urbino
Montecosaro it's a medieval village
Numana, Ancona
Porto San Giorgio
Portonovo has a beach with black stones and I recommend dinner at Marcello or at the Clandestino Susci Bar
San Vicino, Macerata
Sassotetto, Macerata
Sirolo, Ancona
Symposium for a delicious dinner cooked by Lucio Pompili on the Marche hills
Spiaggia di Sassi Neri Mezzavalle a Sirolo
Spiaggia Le due Sorelle a Sirolo, you have the mountains behind you and the sea in front of you
Molise
Marina di Petacciato
Termoli, Campobasso
Piemonte
Alpe Sattal ad Alagna, you can get there by taking a three-hour walk, it is a paradise of silence and nature. You sleep at home with Giuseppe, who built it from scratch many years ago and helps him with all the household daily chores.
Palazzo Borromeo and the gardens of Isola Bella. The Island is in front of the city of Stresa
Langhe piemontesi during September and October
Miasino at the Giardino dei Semplici and Villa Nigra
Orta San Giulio and all the small villages near the lake
Mandali Retreat Center, to calm down enjoying a yoga retreat
Rantan is a Farm House at Trausella near Turin
Pella, Hotel Casa Fantini, for a nice aperitivo or a weekend
Sovazza, a small village between Lake Orta and Lake Maggiore and below the Mottarone with a local small Circolo (bar/restaurant) that is always open for genuine and local lunches and dinners
Vacciago for a spring/summer dinner at La Darbia
Villa Madonna a Monastero Borrmida, Asti
Puglia
Fikus_Puglia it's a beautiful B&B at Martina Franca 
Bari vecchia
Carovigno, Brindisi
Castro, Lecce
Cava di Bauxite a Otranto and from the quarry on foot or with a small boat you arrive at a beautiful and deserted beach
Cisternino, Brindisi
Gallipoli and the historic center
Grotta della Poesia, Roca Vecchia
Grotta Zinzulusa a Castro, Lecce
Isole Tremiti, Foggia
Monopoli, Bari
Monte Sant'Angelo, Foggia
Ostuni, Brindisi
Otranto
Palazzo Daniele a Lecce
Palude del Capitano a Nardò, Lecce
Polignano, Bari
Ponte Ciolo, Gagliano del Capo, Lecce
Porto Cesareo, Lecce
Porto Selvaggio, Nardò, Lecce
Santa Cesarea, Lecce
Santa Maria di Leuca, Lecce
Taverna del Porto for a lunch at Tricase
Tricase Porto, Lecce
Tutta la Valle d'Itria
Vieste, Foggia
Sardegna
Cabras, Oristano
Cane Malu a Bosa, Oristano
Spiaggia S'Abba Druche a Bosa, Oristano
Carloforte, in the south of Sardinia, a small island on the island, it is magical
Golfo Aranci for a lunch at the Scorfano Allegro
Golfo di Baunei, the beaches of Ispuligidenie, Cala Goloritzé, Cala Sisine, Cala Luna, Cala Biriola
Is Arutas, Oristano
Isola della Maddalena, Sassari
Mari Ermi, Oristano
Penisola del Sinis, Oristano
Spiaggia di Piscinas, Cagliari
San Giovanni di Sinis, Oristano
Spiaggia of Tartarughe, San Teodoro, Sassari
Spiaggia di Scivu ad Arbus
Spiaggia Porticciolo, Alghero
Spiaggia Porto Ferro, Sassari
Spiaggia San Giovanni Sinis, empty even in August at any time because to get there is a nice walk
Stintino, Sassari  
To eat at Mario e Pinella Restaurant at Cala Sapone a Calasetta, Cagliari
To eat at Dai Tarocchi restaurant at Castiadas in September and October
Sicilia
Agriturismo Marianeddi a Vendicari, Siracusa
Bagheria, Palermo
Capo Passero, Siracusa
Castellammare del Golfo, Trapani
Cefalú, Palermo
Cretto di Burri, Gibellina
Erice, Trapani
Golfo di Macari at San Vito lo Capo, Trapani
Isola Bella it's near Taormina
Isola di Alicudi, Isole Eolie you can rent a small charming house or Casa 3 Archi
Isola di Favignana, the main of the Egadi Islands. Sleep at Dimora Cala del Pozzo, Hotel Cave Bianche or Il Baglio sull'Acqua, then explore the nature and stop at Cala Rossa
Isola di Filicudi, Isole Eolie at Pensione La Sirena
Isola di Lampedusa
Isola di Pantelleria
Isola di Salina, Isole Eolie lunch da Alfredo for a pane cunzato, Locanda del Postino, Hotel Signum to sleep and dinner
Isola di Stromboli, Isole Eolie at the Volcano extravangaza organized by Nicoletta Fiorucci. Trattoria ai Geghi to eat, 
IUTA Glamping & Farm Noto, Siracusa
Le spiagge di Menfi, Agrigento
Marettimo a Favignana
Marsala and the charming Saline
Marzamemi, Siracusa
Masseria Susafa is inland at Polizzi Generosa, Palermo
Noto, Siracusa
Ortigia, Siracusa
Palermo and you can sleep at B&B L'Olivella
Portopalo, Siracusa, the beach in front of the Hotel Lido Fiori
Riserva Naturale dello Zingaro, a San Vito Lo Capo
San Vito lo Capo, Trapani
Scala dei Turchi, Realmonte, Agrigento
Sciacca, Agrigento
Scopello, Trapani
Taormina, Messina
The sea Riserva del Plemmirio, Siracusa
Tenuta Podere Fossarunza a Marsala
Tonnara di Scopello and il piccolo Baglio a Scopello
Torre Salsa ad Agrigento
Trapani
Vivai del Valentino at Marina di Modica, Ragusa
Toscana
Agriturismo La Fontaccia a Rufina, Firenze
Busatica, Massa Carrara
Cala del Leone, Livorno
Cala Violina is in the middle of Follonica and Punta Ala
Capalbio, glamping all'oasi del WWF
Capraia, Livorno
Casa Barthel to sleep on trees in nature in Florence
Castagneto Carducci, Livorno
Castello Vicarello at Poggi del Sasso
Castiglioncello, Livorno
Chiessi, Isola d'Elba
Giardino dei Tarocchi a Pescia Fiorentina
Isola del Giglio
Isola di Pianosa
Locanda Rossa to sleep in Capalbio
Maremma Toscana there still unspoiled and a little wild places to discover by car
Pomonte, Isola d'Elba
San Giminiano, Siena
The beaches of Sansone, Cavoli, Sant'Andrea, Fetovaia at Isola d'Elba
Tenuta delle Ripalte a Capoliveri at Isola d'Elba
Val d'Orcia, the silence of the immense meadows and the perched villages and you can visit Pienza, Montepulciano, Bagni Vignoni
Volterra, Pisa
Trentino-Alto Adige
Albergo Briol a Barbian, Sud Tirolo

Avelengo

Lago di Braies

Lago di Ledro

Monte Creino, Mori

San Luis Lodges, Hafling, Sud Tirolo

The Sunrise in front of the Santner Pass

Val di Funes
Umbria
Cascate delle Marmore
Gubbio in October, orange leaves and lots of truffles
Hotel Eremito Hotelito del Alma a Parrano for and exclusive and charming stay
La Scarzuola, the ideal city of Tomaso Buzzi. Località Montegiove, Montegabbione. To visit the ideal city you have to book at info@lascarzuola.com and pay a ticket of 10€
Lago Trasimeno and the island
Perugia during the Umbria Jazz Festival in July, visit the Burri museum and have lunch at Terrazza Oscari, truffle is excellent here!
Piani di Castelluccio a Norcia, in June and in July all the fields bloom
Montefalco, Perugia
Orvieto
Solomeo, the ideal city requalified by Brunello Cuccinelli
Tenuta Castelbuono to have a delicius wine tasting and to see the sculpture Carapace of Arnaldo Pomodoro
Veneto
Lazise
Lio Piccolo, for cycling at sunrises and sunsets
Malcesine is perfect for windsurf and kitesurf on the Garda Lake
Passo Giau, Belluno
Sirmione
Picture via The Editorialist by Izi
Se avete posti del cuore che volete inserire scrivete a Licia o alla mail smile@liciaflorio.com e fateci sapere se seguirete questa mappa!
If you travel using this map, please share your Italian holiday pictures with us!
xx